Chair – Department of Innovation in Medical Education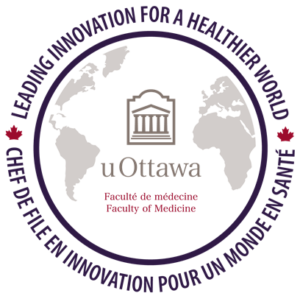 Chair
 Department of Innovation in Medical Education
The University of Ottawa is Canada's largest bilingual institution of higher learning and research. It is located on the unceded ancestral territories of the Algonquin people in the heart of the nation's capital.
The Faculty of Medicine, University of Ottawa, offers competitive education and research programs in a dynamic learning environment with state-of-the art facilities, specialized institutions, world-class physicians and scientists. As a national leader in medical education and research, and among the top faculties of medicine in the world for clinical medicine, public health, and research impact, we are seeking a dynamic academic leader for the position of Chair of the Department of Innovation in Medical Education (DIME).
DIME is a basic science department in the Faculty of Medicine that offers teaching, research, and scholarship in the area of medical and health professions education. DIME promotes innovation and advances in medical and health professions education scholarship and enables and evaluates breakthrough advances across the medical and health professions education continuum, including but not limited to:
The Chair is responsible for the development and delivery of undergraduate and post-graduate curricula, and medical and health professions education programs; creating a fair, equitable, and supportive environment for learning and engagement; supporting involvement in scholarly, research and creative activity; stewardship of the human and financial resources of the Department; representing the Department within the Faculty and University; and liaising with the profession and the community.
Functions: The successful candidate will become a member of the academic staff in a tenure-track position if he/she is not already in a tenure-track/tenured position in DIME, and will be subject to the collective agreement of the Association of Professors of the University of Ottawa (APUO).
Wage: Salary is commensurate according to rank and experience based on the APUO Collective Agreement. Note: salary for higher ranks is commensurate according to rank and experience. An additional administrative stipend is provided for the role of Chair, DIME.
Benefits package: The University of Ottawa provides a complete compensation package which includes long term disability, basic group life insurance, supplementary health insurance, University of Ottawa Pension Plan and optional life insurance.
Location of work: Faculty of Medicine, University of Ottawa, 600 Peter Morand Crescent, Ottawa, ON K1G 5Z3
The successful candidate must meet the following qualifications:
PhD or MD/PhD with an excellent understanding of the Faculty of Medicine programs and initiatives as well as of its current 2020-2025 strategic plan called "Leading Innovation for a Healthier World";
A seasoned leader with a demonstrated track record of academic and research excellence;
An experienced individual who will promote / sustain innovation and collaborative partnerships within DIME and throughout the Faculty, including with Clinical departments and several research institutes (University of Ottawa Brain and Mind Research Institute, Ottawa Hospital Research Institute, Children's Hospital of Eastern Ontario Research Institute, University of Ottawa Institute of Mental Health Research, Élisabeth Bruyère Research Institute and the Montfort Hospital Research Institute);
Excellent interpersonal, communication, organizational and leadership skills;
Be in good standing with their professional body if applicable;
Eligible for appointment at the academic rank of Associate or Full Professor;
Fluency in English or French (the university's official languages) and working knowledge of the other is required.
Applications or suggestions for nominations, along with a cover letter, curriculum vitae, and the names of three references, should be sent no later than November 16, 2020 to:
Mrs. Evin Sezer-Hepcanli
Manager, Faculty and Corporate Affairs
by email: esezer@uottawa.ca
The University of Ottawa is committed to ensuring equity, diversity and inclusion in the scholarly and leadership environments of our students, staff, and faculty. Accordingly, we strongly encourage applications from Indigenous persons, visible minorities members (racialized persons), persons with disabilities, women, as well as from all qualified candidates with the skills and knowledge to productively engage with equitable, diverse and inclusive communities. Candidates who wish to be considered as a member of one or more designated groups are asked to complete the confidential Self-Identification Questionnaire, to be completed at the time of application. Please take note of this posting number. This questionnaire can be found online.
According to government policy, all qualified candidates are invited to apply; however, preference will be given to Canadians and permanent residents. When submitting your application, please indicate if you are legally entitled to work in Canada. The University of Ottawa provides accommodations for applicants with disabilities throughout the recruitment process. If you are invited to proceed in the selection process, please notify us of any accommodations that you require by contacting the Office of the Vice-Provost, Faculty Relations at 613-562-5958. Any information you send us will be handled respectfully and in complete confidence. The University of Ottawa is proud of its 160-year tradition of bilingualism. Through its Official Languages and Bilingualism Institute, the University provides training to staff members and to their spouses in their second official language. At the time of tenure, professors are expected to have the ability to function in a bilingual setting.
Notice of Collection of Personal Information In accordance with the Freedom of Information and Protection of Privacy Act (Ontario) and with University Policy 90, your personal information is collected under the authority of the University of Ottawa Act, 1965 and is intended to be used for the purpose of and those consistent with your employment application and the administration of your employment relationship, if established. If you have any questions regarding this collection of personal information, please contact Office of the Vice-Provost, Faculty Relations at (613) 562-5958 or by email at vra.affairesprofessorales@uottawa.ca