ECME
Early Career Medical Educators
Early Career Medical Educators (ECME) is a nation-wide community of engaged and collaborative scholars in medical education. We are students, teachers, researchers, clinicians, and leaders in the pursuit of improving education through scholarship. We provide a forum for networking between members as well as connections with senior colleagues and mentors. This includes formal and informal events at the CCME conference where we gather to share and learn from each other as well as more senior mentors in our field.  Our members are actively contributing to CAME in order to grow and support the community of medical and health professions educators in Canada. To join our list serve, please email Dr. Sayra Cristancho (sayra.cristancho@schulich.uwo.ca).
Our Executive
Co-Presidents:
Mahan Kulasegaram (University of Toronto) & Tim Dubé (Université de Sherbrooke)
Awards Directors:
Laura Nimmon (UBC) & Sarah Wright (University of Toronto)
Communications Director:
Teresa Chan (McMaster University)
Members-at-large:
Sarah Burm (Dalhousie)
Alumni Members:
Meredith Young (McGill University), Kelly Dore (McMaster University), Lara Varpio (Uniformed Services University)
ECME also celebrates and recognizes the talents of its members and mentors through the ECME Champion Award and the Mentorship Award. The former recognizes early career researchers with an emerging track record of excellence in medical education and the latter recognizes mentorship and support of junior scholars in the field. Past winners include:
Champion
2020: Dr. Laura Nimmon
2019: Dr. Sayra Cristancho and Dr. Meredith Vanstone
2018: Dr. Stella Ng
2016: Dr. Rachel Blanchard
2015: Dr. Meredith Young
Mentorship
2020: Dr. Lara Varpio
2019: Dr. Lorelei Lingard
2018: Dr. Joanna Bates
2016: Drs. Maria Mylopoulos, Tina Martimianakis, Nicole Woods
2015: Dr. Glenn Regehr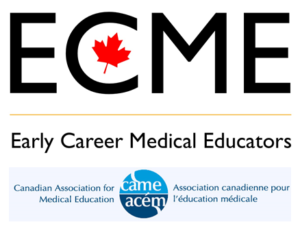 May 30, 2020
After a very inspiring deliberation of many exceptional nominations, we are delighted to announce the winners of the Early Career Medical Educators 2020 Awards. The ECME Champion and Mentor awards celebrate contributions to the field of medical education, with an emphasis on the advancement, amplification, support, promotion, and mentorship of medical educators – those involved in education scholarship and research in our field.
ECME Champion Awards honour an early career medical educator who, through their advocacy, role modelling, and mentorship, advances the growth, success, and recognition of fellow early career medical educators.
This year's Champion Award goes to an exceptional early career medical educator:
Dr. Laura Nimmon, Centre for Health Education Scholarship, University of British Columbia.
ECME Mentor Awards honour a mid to senior career faculty member who, through their advocacy, role modelling and mentorship, advances the growth, success, and recognition of early career medical educators.
This year's Mentor Award goes to Dr. Lara Varpio, Professor of Medicine and Associate Director of Research, Uniformed Services University of the Health Sciences
We thank all nominators and congratulate all nominees. This award was to be given out at CCME 2020, but we hope to celebrate our winners in person  in the future.
Sincerely,
Mahan Kulasegaram, ECME Co-President
Tim V Dubé, ECME Co-President
The ECME 2020 Awards Committee: Erin Cameron, Madison Brydges, Andrea Gingerich, Taryn Taylor, Meredith Young and co-chairs: Meghan McConnell and Sarah Wright