CAME Webinar Series 2022
The CAME webinar series is designed to bring practical, evidence- and experience based advice to Canadian health educators. The webinars offer an exciting opportunity to engage online with and expert and with colleagues in a live discussion on a key topic in medical education.
This year we are also excited to introduce the (un)Learning Series: Transforming Health Professions education Through Anti-Oppression and Anti-Racism. This series, consisting of several presentations per year, will reflect a sustained commitment to the important values of equity, inclusion, anti-racism and anti-oppression in Health Professions Education. With panels and speakers, the (un)Learning Series will bring these important topics into a central focus to cultivate national discussion to promote our collective learning and action.
Sessions are presented by experienced Canadian educators who discuss key issues and considerations for educators and teachers striving to optimize learning for their students. During every webinar, 10-15 minutes are reserved for questions and answers.
The overall aims of the webinar series are to enable Canadian health educators to:
list some contemporary challenges and solutions in health education
consider how these solutions may be useful in their education/teaching activities.
This year, deliveries will be taking place at both 12:00pm EDT and 12:00PM DT to give you more opportunity to join in! Take a look at the exciting list of webinars that will be coming up in 2022!
New! Registration is free for CAME members!
Upcoming Webinar Topics 2022
Date: Friday, June 10, 2022 – This webinar will be delivered in English
Delivery 1: 12:00pm-1:30pm EDT
Delivery 2: 12:00pm-1:30pm PDT (3:00pm-4:30pm EDT)
Please note: This session will run for 1.5 hours. The last half hour will allow time for additional discussion and interaction for those who are able to stay on.
Title: Creating and enabling psychological safety: A framework for medical education 
Presenters: Dr. Ming-Ka Chan, University of Manitoba and Dr. Anne Matlow, University of Toronto
Biography: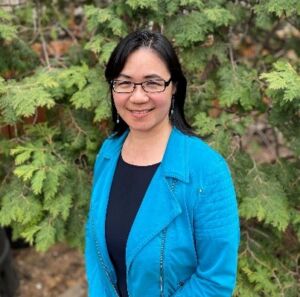 Dr. Chan is a Pediatric Clinician Educator who currently lives, works and plays on Treaty 1 Territory and the Homeland Metis Nation which is currently known as Winnipeg. She has leadership roles in leadership education & EDI/Social Justice at the University of Manitoba. She is a founding member of Sanokondu, a multinational learning community focused on healthcare leadership education with an emphasis on learners. She is also a member of the planning team for the Canadian Leadership Institute in Medical Education or CLIME as well as CLIME 2 that recently launched in 2021.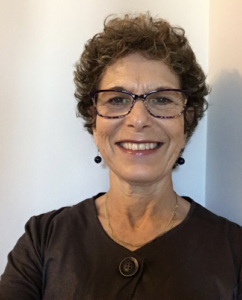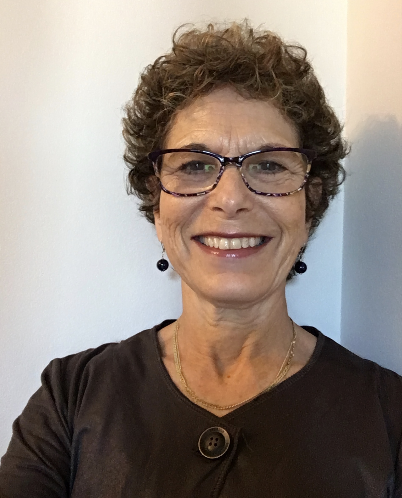 Anne Matlow MSc MD FRCPC is a Professor of Medicine and Pediatrics at the University of Toronto's Temerty Faculty of Medicine where she is Faculty Lead, PG Leadership.  Her current focus is on leadership education as a key lever for systems transformation; she co-directs the PG Leadership Certificate Program at the University of Toronto, and led the Royal College of Physician and Surgeon of Canada's team in partnership with the Canadian Society for Physician Leaders and LEADS Global in developing a leadership simulation game, SimuLEADerShip. She has just begun her learning in an Executive Coaching Certificate Program at Royal Roads University, aiming to gain the knowledge and skills to use kind coaching to support a shift in the culture of healthcare, including fostering greater psychological safety for all.
Overview: Psychological safety (PS) is 'the degree to which people view their environment as conducive to interpersonal risky behaviours like speaking up or asking for help' (Edmondson 2016).  When present, individuals feel valued and team performance is optimized, but when absent, individual and team health and performance suffer.  Psychological safety is key to a nurturing learning environment, allowing learners, faculty and other healthcare workers to thrive. Application of a conceptual framework for PS enables recognition of existing barriers and potential interventions for improvement, ultimately leading to better health and wellbeing for patients/families, learners and providers.
Objectives of the Workshop: After attending, participants will be able to:
– define PS and discuss its impact on individuals and teams
– use Clark's four stage model of PS to analyze enablers and barriers to creating PS environments
– identify three strategies to improve PS in their own context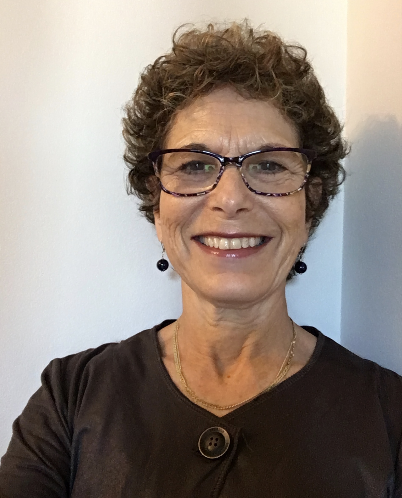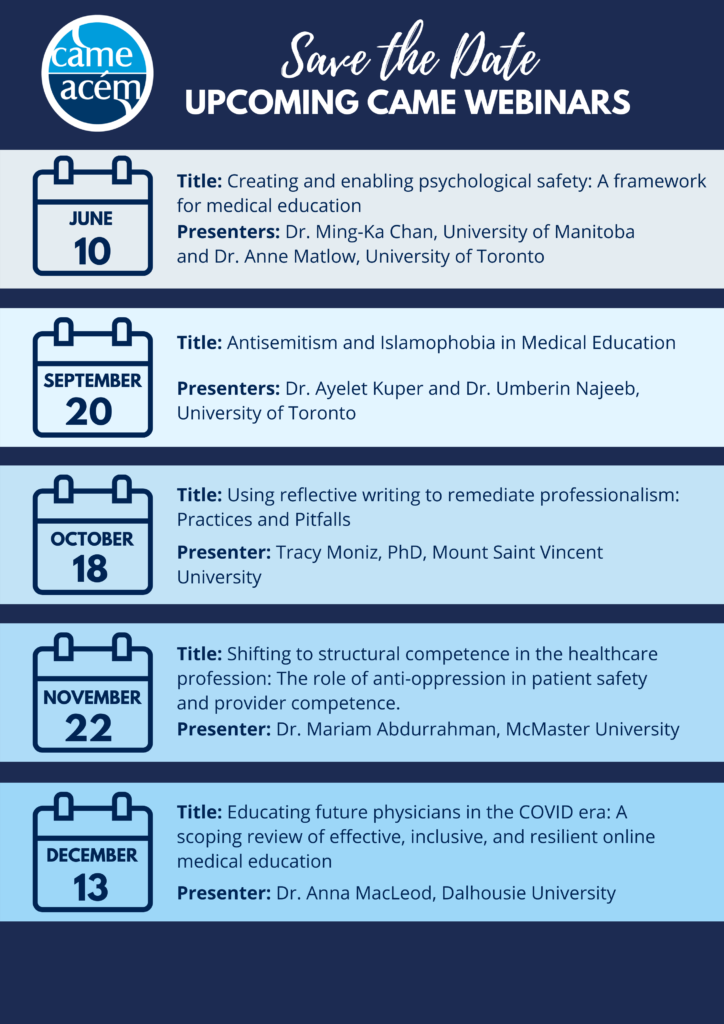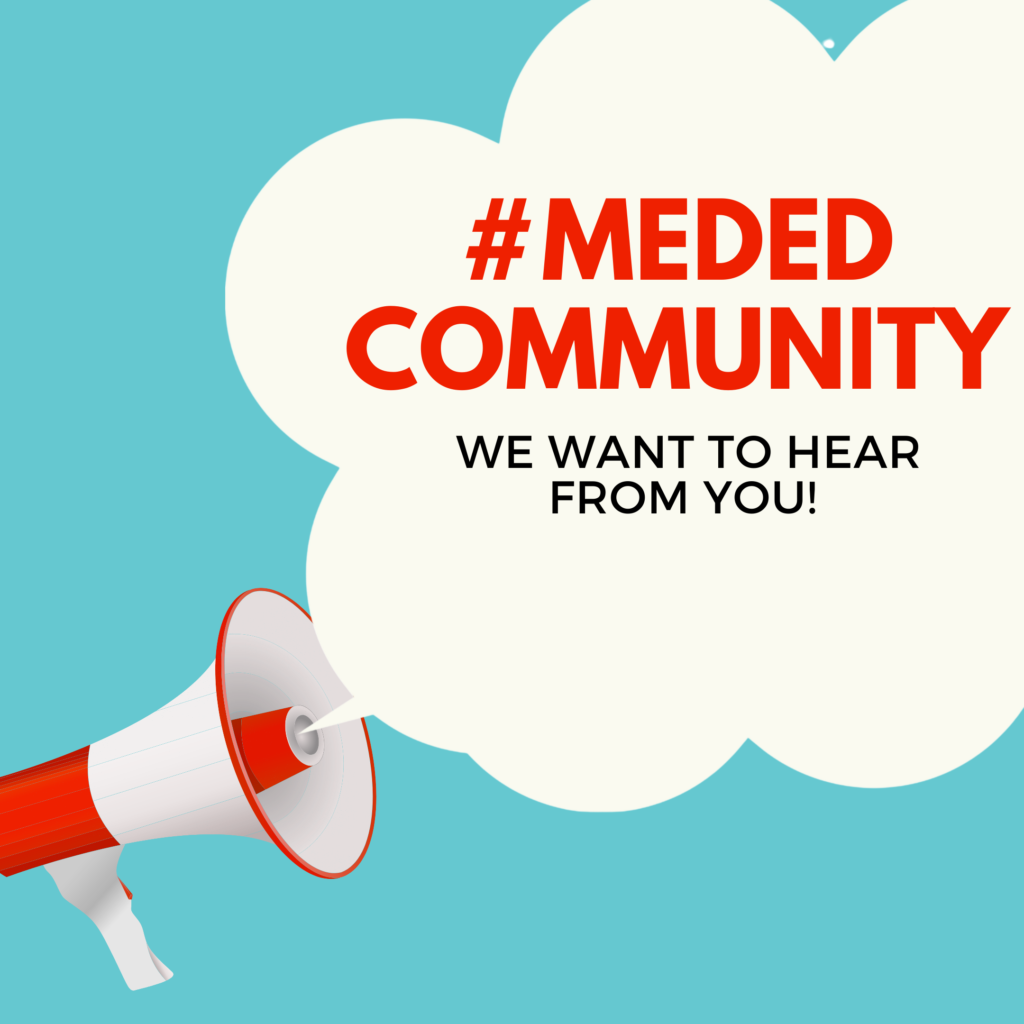 We are in the process of securing presenters for our 2022 webinar series. Is there a talk or presentation that you have seen recently that resonated with you that you think the CAME community would enjoy? Is there a topic or subject matter area that interests you and we could help you learn more about? Join the conversation and let us know! We look forward to receiving your suggestions!
Thank You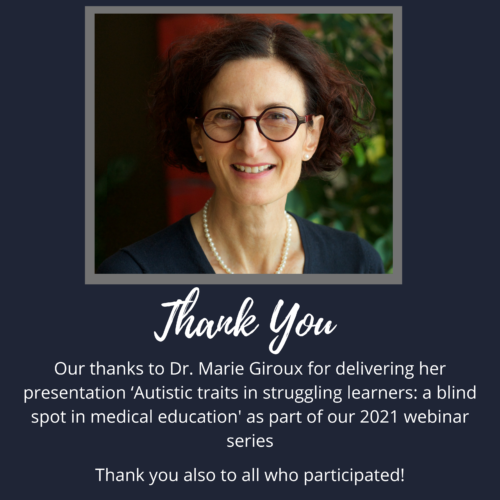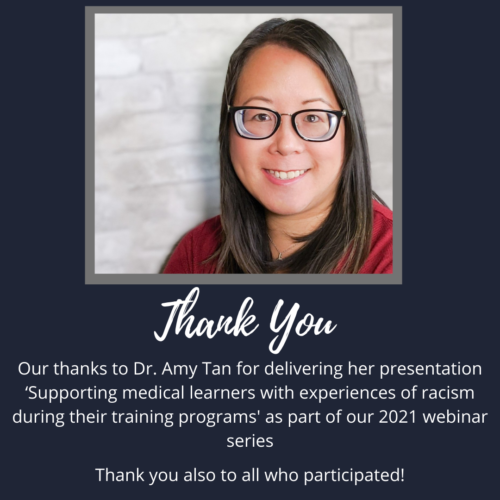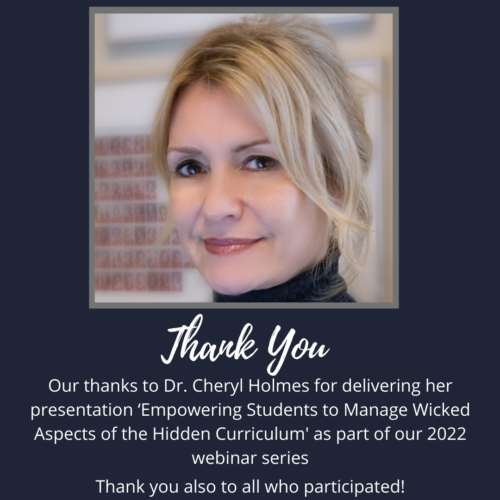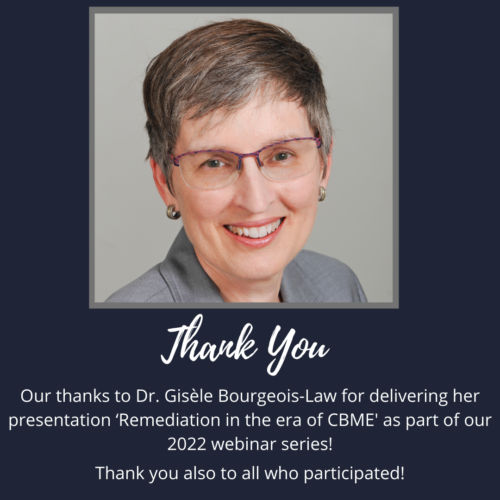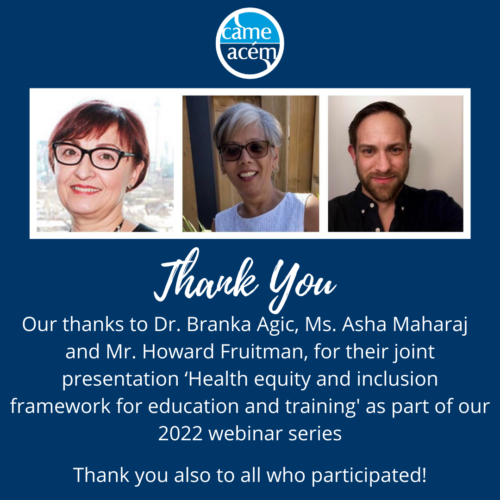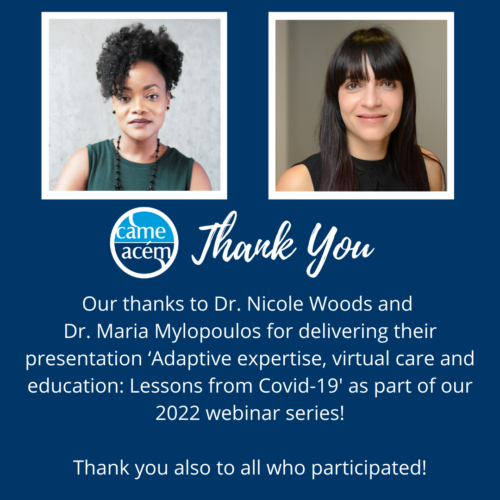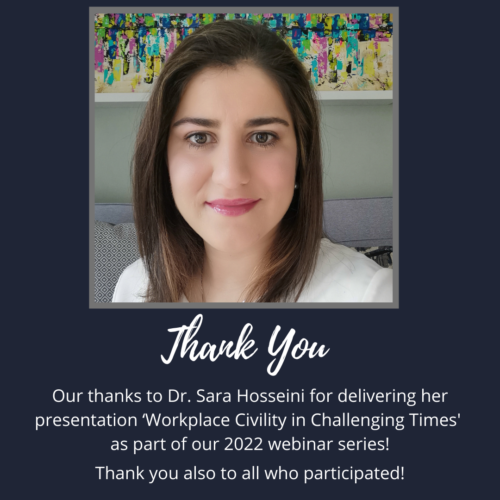 Webinar Logistics
CAME Member*
New! Registration is free for CAME members! *
Non-CAME Member
$40.00
Group registration for one delivery

·         No maximum group size

$75.00

Group registration for the year

·         No maximum group size

·         Links will be provided for both sessions at 12pm Eastern & 12pm Pacific

$500.00
*This discounted rate is available to CAME members only. CAME membership status will be validated prior to confirmation of registration.
Technical requirements:
To participate in this webinar you will need a computer with internet access, Flash Player and speakers. You will not have to download or install any software. Ideas or questions? Please contact us at came@afmc.ca.